Meet Allison Martinico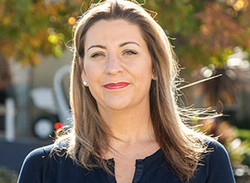 What's your role with us?
I'm the Village Manager at Waterford Valley Lakes in Rowville, Victoria.
What's your career background?
At the age of 21, I had the opportunity to run a hotel in Williamstown called the Victoria Inn (Western Bulldogs). And since then, I've held various management positions within the hospitality sector.
I believe my recipe for career success has been my experience in various sectors within the hospitality industry. This has given me a wealth of knowledge about horticulture, social events, facility management, service excellence, providing quality services and striving for continuous improvement in a sustainable manner.
If you could learn any skill overnight, what would it be?
I would love to learn how to play the piano!
What's your favourite holiday destination?
My favourite holiday destination has to be New Zealand, where I accomplished the Milford Sound hike, Tongariro Alpine Crossing and Mount Aspiring climb. I also kayaked across the Bay of Islands and rock-climbed in Wanaka. New Zealand also has some of the freshest seasonal produce in the world. And New Zealanders pride themselves on the use of local products from both the land and sea, which is wonderful.
An important life lesson you've learnt.
Never judge a book by its cover. Everybody has a story to tell.
What does a usual weekend look like?
First up is a trip to the gym (which is probably where I do my best thinking and problem-solving). Then a delicious breakfast with my best friend, gardening chores and off to the driving range. Last but not least, shoe shopping because you can never have enough shoes!
What is something not many people know about you?
I am a qualified scuba diver and used to participate competitively in ballroom dancing.
What I find inspiring.
Other people's generosity in the giving of their time and skills to others.
What do you enjoy most about working in Retirement Living?
The residents and their stories about life. And the challenge of a career change. Subheading
Allison's energy-boosting salmon fish cakes
Serves: 4 to 6
Prep time: 10 minutes
Cook time: 40 to 50 minutes
Allergens: Dairy-free
Ingredients
600g potatoes
½ bunch of fresh chives
2 x 180g tins of salmon, from sustainable sources
1 lemon
1 tablespoon plain flour, plus extra for dusting
1 large free-range egg Olive oil 1 red chilli
Method
Half-fill a large saucepan with cold water and add a tiny pinch of salt. Place on high heat and bring to a boil.
Peel the potatoes, then chop into 1 cm cubes.
Once the water comes to a boil, carefully add potatoes and turn heat down to medium. Simmer gently for around 10 minutes or until cooked through.
Finely chop the chives and add to a mixing bowl.
Drain salmon in a sieve over the sink. Add salmon to the bowl, using a fork to flake into small chunks.
Once cooked, drain the potatoes and peas in a colander over the sink, then leave them to cool completely.
Zest one lemon, then add it to the bowl along with the flour.
Add egg to bowl and season with a tiny pinch of pepper, using a potato masher to combine.
Add the mash to the bowl, then mix together with chopped chillies until well combined.
Sprinkle a little flour over a clean work surface and onto a large plate before dividing the mixture into cubes.
Use your hands to pat and shape each ball into a fish cake roughly 2cm thick.
Place them onto the floured plate, dusting your hands and the top of each fish cake lightly with flour as you go.
Place a large frying pan on medium heat and add one tablespoon of olive oil before carefully placing the fish cakes into the pan.
Cook for 3 to 4 minutes on each side or until crisp and golden, turning carefully.
Cut the zested lemon into wedges and serve the fishcakes with some seasonal greens.
Learn more about Waterford Valley Lakes, VIC.
---
For more information about the lifestyle and support offered at our retirement villages, call our customer service team on 1800 550 550.
If you think your family or friends might enjoy this article, please share it with them.