My feet have been a problem for most of my adult life due to various structural abnormalities I was born with. This put pressure on various parts of the foot, resulting in bunions below the big toe joint, most noticeable on the left foot. And I regularly noticed general inflammation and pain. This had been getting worse for many years,' Jennifer says. 'I consulted my GP and had x-rays, and was referred to a surgeon, although I did not initially go down this path. I tried wearing orthotics, taking anti-inflammatory medications, and using anti-inflammatory gels and creams. None of which gave me anything but temporary relief.
After attempting to aid her pain by regularly exercising and walking upwards of 6 km daily, Jennifer thought she was headed for surgery - until she found Community Moves, a health and fitness gym for older adults. Following the simple daily steps given to her by Accredited Exercise Scientist, Van Marinos, Jennifer's quality of life has improved two-fold.
Community Moves gym for the over 50s
Community Moves in Neutral Bay, NSW was founded by Van Marinos. The gym caters specifically to people over 50 who want to improve their health through regular, safe and structured exercise. The program addresses many of the common areas of physical challenges seen in the general population as we age.
Exercises aimed at core, hip, and shoulder stability can help people improve their movement patterns and ultimately, reduce pain. Van says it's been amazing to see the number of people who have improved their health and quality of life simply by attending 3 or more classes per week.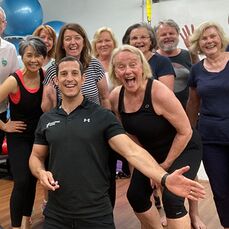 One of the best decisions Jennifer's made
Though initially hesitant about signing up for a health and fitness program, Jennifer now believes it was one of the best decisions she's ever made.
I didn't join Community Moves because of my foot problem. In fact, I worried I wouldn't be able to continue as the exercise might inflame the situation,' Jennifer says. 'By that stage, I had even made an appointment to see a surgeon as the pain just got worse and worse. However, when I did sign up for the classes at Community Moves, I quickly progressed and found that my foot pain actually improved! So much so that I cancelled the appointment. And while I initially joined Community Moves to get fit and healthy and to improve bone mass, I have now found that my foot pain is almost negligible.'
Improving health through safe and sustainable exercise
Explaining his role as an Accredited Exercise Scientist, Van always reminds members that he's not qualified to diagnose or treat pain. He recommends seeking professional help if suffering from pain or inflammation. This advice is of utmost importance to Van.
But he does create programs and an environment for people with various physical and psychological challenges. This allows them to improve their health through safe, suitable and sustainable exercise sessions.
'We recently conducted an internal health survey. And we found that of all the members who started at Community Moves with pre-existing injuries or chronic pain, 85% had noticed significant improvements in their conditions,' Van says.
Now Jennifer's dancing
Jennifer also explains that undertaking simple daily steps, like observing how she places her feet on the ground when she walks, has strengthened certain areas and made an enormous difference towards her pain.
'Although the bunions are still structurally apparent, they are no longer red and inflamed or painful,' Jennifer says. 'I'm as amazed as anyone at this outcome! My feet are so good now, that recently I started doing Tango dancing lessons, expecting sore feet would soon put a stop to it. But once again, I found that even after one and a half hours of dancing, I was fine.'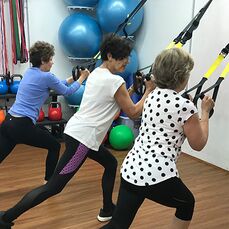 5 hours a week to improve your quality of life
Van signs off with an important message to anyone over 50 wanting to improve their health on a daily basis.
'Our bodies are designed for movement. When they're given the opportunity to not only move regularly but taught how to move properly as well, they will pay you back in spades. There are 168 waking hours in a week. And if you committed to improving your own health for just 5 hours each week, the quality of time spent with family, friends, on holiday or otherwise, would most definitely improve,' Van says.
'Perhaps, you'd even be able to Tango too!'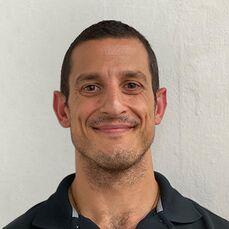 Van Marinos, Accredited Exercise Scientist and Founder of Community Moves
Learn more about Community Moves.
---
For more information about the lifestyle and support offered at our retirement villages, call our customer service team on 1800 550 550.
If you think your family or friends might enjoy this article, please share it with them.