Villages designed to improve your health and wellness
We like to see residents remain active and healthy. That's why we provide lifestyle and wellness programs tailored to each community's needs. While each village has its own schedule, activities could include:
Yoga
Tai Chi
Gentle movement
Circuit
Walking groups
Cycling groups
Social groups
Sports and excursions
Convenient locations for easy access to local amenities and health services
Convenience is key to an easy lifestyle. Residents often find life becomes easier once they move into a village closer to local amenities. That's why most of our villages are in or near thriving communities, with easy access to transport and medical services. Of course, retail therapy is close by too!
Your care and lifestyle providers can still come to your home
On the topic of medical services, we're often asked if you can access your own care services once you move in. The answer is yes, you most certainly can. If you currently access care services or have a helping hand around the home, such as a cleaner or home nurse, of course you can keep working with them in your new home.
Village services and help to find the care you need
We can also help connect you with the best health and wellness initiatives to help you live your best life. We have a stringent process to select health and wellness providers for our residents.
Available services may include:
Domestic assistance
Respite care
Shopping help
Social support
Meal preparation
Nursing
Allied health services
Aides
Equipment
In many villages, residents can also access visiting practitioners like physiotherapists or podiatrists.
In-home emergency call system for your peace of mind
To ease your mind further, we've partnered with a world-class emergency call system provider to deliver in-home emergency call systems. Not only for emergencies, this system gives you immediate connection to skilled operators who can talk you through a problem or send help.
Socialising for a healthier life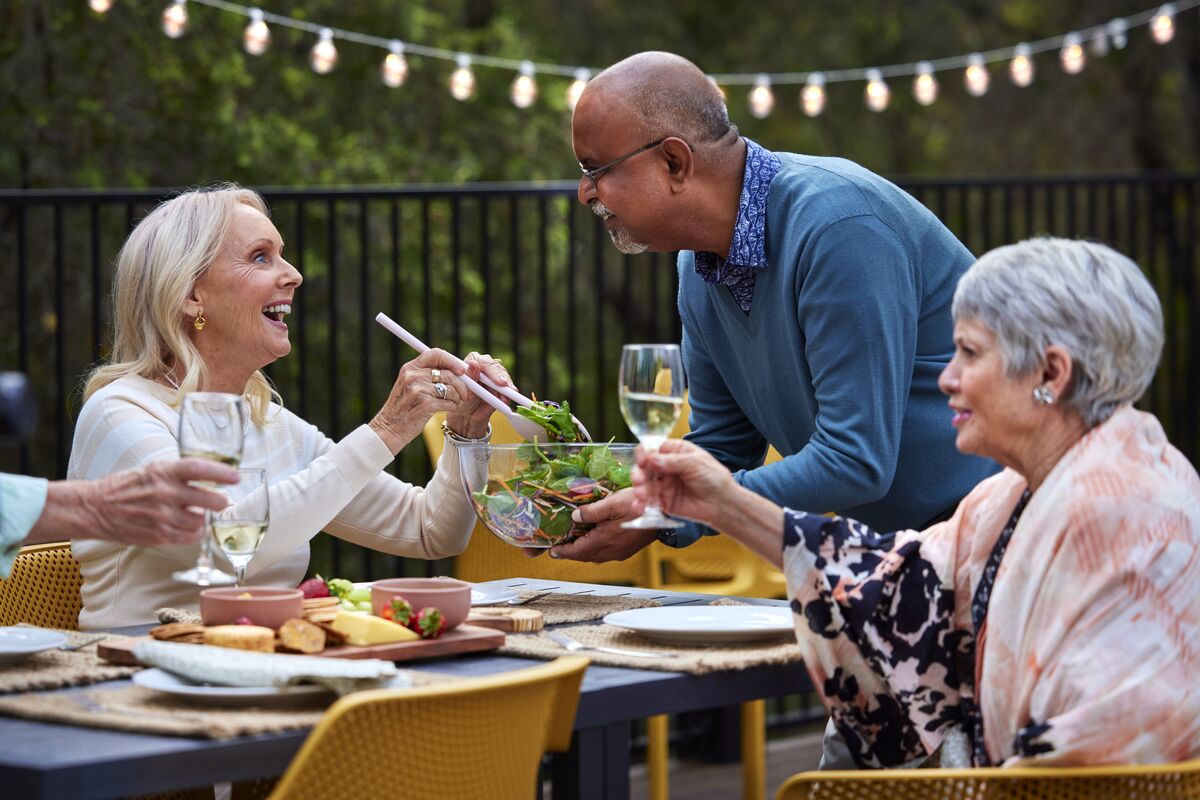 Decades of research have shown that people with more social relationships live longer, have greater resistance to infectious disease and have a better chance of fighting illness. People with high levels of community participation and high socio-economic status also record the highest life satisfaction scores.
Welcoming your friends, family and furry companions
This is your home, so friends and family are most welcome to stay with you. Of course, other residents appreciate knowing who their neighbours are. So for extended stays of more than 30 days, you'll need to discuss your plans with the village manager.
We don't just welcome your human friends, we love your four-legged furry companions too! While most (but not all) villages welcome pets, your village manager will meet each pet to grant approval before taking up residency.
Making new friends
Making new friends couldn't be easier. Each village has a community centre or club house, which forms the leisure and social heart of the village. Village life is set up for socialising, so there's never a dull moment, whether it's activities or events you crave. Of course, you can involve yourself in the community as much or as little as you like.
Travel options abound
If you love to travel, there's no need to stop when you move into a village. We even have a place for your caravan! Many of our villages have dedicated parking for vans or trailers, but it's important to check this before you move in, as each village is different.
What residents say
The residents are our greatest advocates. There are many benefits of retirement living including being part of a community of like-minded people.
'At our old place, we knew the neighbours on either side, and that was about it. Now we know over 200 of them!'
Making the move for the better
Watch residents talk about how their lives changed for the better when they made the move to a retirement village.
Our resident advocacy rates are 52% HIGHER than our nearest competitors*
We regularly touch base with residents and listen to what they say about their lives and our services. We're proud to have very high satisfaction levels and advocacy rates above industry standards. These results show the positive living experiences the residents have.
"If you want companionship, safety, and plenty of things to do, you couldn't do better than to come here"

The results of our resident satisfaction research show the benefits of retirement villages.
For more information about the lifestyle and support offered at our retirement villages, call our customer service team on 1800 550 550.
If you think your family or friends might enjoy this article, please share it with them.
*Stancombe Research and Planning Pty Ltd (2019) Lendlease Retirement Living; Satisfaction Index Research - Key Insights; December 2019 report. Lendlease Retirement Living engaged a market research firm to conduct Resident Satisfaction Index Research Key Insights. This information is from their report.