There are different reasons people might go travelling alone. Maybe you want to visit different destinations than your family and friends. Or perhaps you simply love to travel with the freedom of going solo. Now is your time to take that trip you've always wanted.
But are you wondering where the best places are for seniors travelling solo?
We talked to Alana Lowes, editor of Life Begins At, to get her top 5 best places to travel alone, as well as her essential solo travelling tips
The five best places for seniors travelling solo
New York, USA
The big apple is a fantastic city to explore on your own. With endless museums, galleries, restaurants and cafes, going solo is no problem. Because New York City is the most interesting travel companion you'll ever meet.
Of course, there are must-see attractions like the Metropolitan Museum and the American Museum of Natural History. Then for a good coffee fix, grab a five-minute cab to Oslo Coffee Roasters. (Or if you're up for a stroll, it's only 30 minutes from The Met.)
For a taste of the real New York, spend a day in Brooklyn or hop on one of New York's many tour buses. Don't forget to taste delicious multicultural foods in Queens.
If you plan ahead, you might snap up excellent tour discounts. Ask at your hotel desk a few days beforehand to see what's on offer and book your tours.
This vibrant and unpredictable city will entertain you every second of the way. You'll never see the end of New York!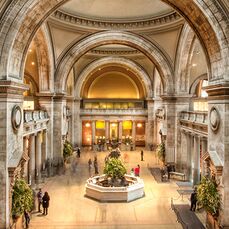 The grand interior of The Met's Grand Hall with its domes, arches, pillars and marble floors.
Tokyo, Japan
If you want to get 'Lost in Translation' in one of the world's most intriguing and engaging cities, put Tokyo on your solo travel wishlist. With a captivating mix of buzzing retail precincts, tranquil gardens, and castles, it's the perfect place to explore at your leisure.
There's so much to see in Japan, but make sure you allow time to stop and enjoy the magnificent parks. And to indulge in the delicious fresh seafood!
While travelling alone allows you to explore at your pace, it can be reassuring to discover a new country with someone at your side. Group tours offer both security and companionship, whether for the tour guide or the chance to explore with fellow travellers. Especially when travelling to destinations where language or cultural customs can be a barrier.
And when you're on an organised tour, you'll have someone there to take a photo to show the family when you get home. After all, a tour guide can be your unofficial photographer.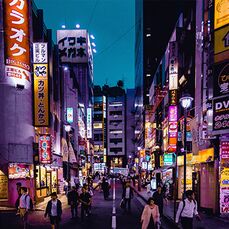 The glowing neon signs of Tokyo's shopping precinct at night.
Kuala Lumpur, Malaysia
With a rich melting pot of flavours, Malaysian cuisine ranks among the most delicious in Asia. And one of the best places to experience it all is the country's capital, Kuala Lumpur.
The city is a culinary heaven for any solo traveller. A wide diversity of influences, including Chinese, Indian and Portuguese, underpins Malaysian food's enchanting flavours. Not to mention the many spices and characteristics of Southeast Asian food. With so many flavours to explore, you'll find yourself planning your daily itinerary around your next dish.
Between each delectable delight, there are plenty of colourful temples and other attractions to feed your mind and soul. A visit to Malaysia is truly a feast for your senses.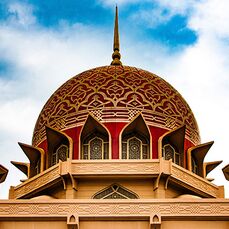 A decorative temple dome roof in Malaysia.
Reykjavík, Iceland
Iceland is one of the easiest places to visit for solo travellers. It's gorgeous, and if you're an active traveller, Iceland is a dream come true. Mountains, glaciers, volcanoes, mud pots, fjords, sea cliffs and the Aurora Borealis. The landscape is stunning and looks like it came right out of a storybook.
If seeing the Northern Lights is high on your bucket list, you'll want to make the trip during February, March, September or October. These are usually the best months to catch this force of nature in all its glory.
Iceland also ranks as one of the safest countries in the world. This means that you can put your worries about travelling solo aside.
Reykjavik has a small-town vibe and is almost crime-free. And there are amazing natural attractions like the Blue Lagoon, the Golden Circle route, and the spectacular Ring Road. Not to mention the pristine fjords, which are best enjoyed from the water.
Seeing the scenery in Iceland is the only way to understand its incredible beauty.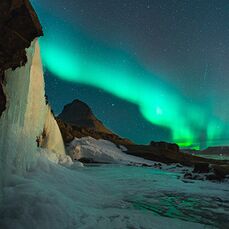 The beautiful hazy green lights of the Aurora Borealis in an icy landscape.
Auckland, New Zealand
Our closest neighbour, New Zealand, is a great first destination for solo travellers. Auckland will make you feel right at home, with many similarities to an Australian city. But there are plenty of unique and interesting experiences on offer to remind you that you are in another country.
Auckland is blessed with two breathtaking harbours surrounded by picturesque hills and farmland. If you're feeling adventurous, take a scenic half-hour ferry ride to Waiheke Island. First, you can spoil yourself with a stroll along white-sand beaches. After working up an appetite, you'll be ready for a cellar door tasting at one of the island's award-winning vineyards.
Like Aussies, Kiwis are some of the friendliest people, so you'll have no trouble making new friends.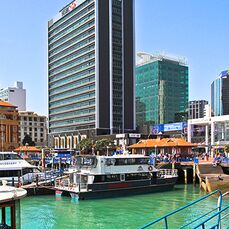 Tour boats in the vibrant green water of Waitemata Harbour, surrounded by historic and modern high-rise buildings.
Solo travelling tips
Travelling alone can be wonderful. You get to immerse yourself in new cultures, choose your own adventure and explore at your own pace. But it's important to be well-prepared. Here are some solo travelling tips to help you enjoy a worry-free adventure for one.
Book solo-friendly accommodation
Try a homestay, hotel, hostel, B&B or a small inn that's particularly good for solo travellers.
Be patient
It can be difficult to arrive in a new city alone. Take your time. Take a day to relax, watch the city function and settle in.
Stay low-key
Don't flash jewellery or expensive cameras and electronics. Be discreet to avoid unwanted attention.
Organise technology
Make booking restaurants and tours easy by getting a prepaid travel sim which can give you reliable network coverage in many countries. You can buy a travel sim from some Australian travel stores, phone stores and post offices. If you're not sure how to set it up, ask the store assistant to help you load your prepayment and pop the travel sim into your phone. That way, you'll be ready to use it the minute you walk off the plane (or ship). Also, remember to get a travel adapter so you can charge your phone in whichever country you're in.
Know where you are
Study a map of your destination - or even better, download the offline version of the city using Google Maps or another location service app of your choice. It also helps to gain a sense of direction using major landmarks like Central Park in New York City. This will help you explore cities safely.
Establish a routine
Visit the same café, fruit stall or restaurant every day. You'll get to know the people, and they'll start to watch out for you.
Have a great time
Solo travel as a senior can be a liberating and empowering experience. Be sure to embrace the journey with an open mind and have a great time discovering new horizons and creating magical memories.
For more exciting and informative travel tips, visit the dedicated travel section of Life Begins At.
---
For more information about the lifestyle and support offered at our retirement villages, call our customer service team on 1800 550 550.
If you think your family or friends might enjoy this article, please share it with them.